Local & National Missions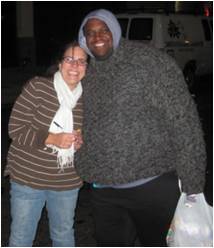 There are plenty of opportunities to serve with our Outreach Team in the local community and also national activities including, serving the poor, homeless and incarcerated. 
Service Within the Local Community
The Larchmont/Mamaroneck Hunger Task Force provides emergency food assistance consisting of a food bag with non-perishable items to needy families in the surrounding area.
Our church is actively involved with this local Food Pantry
under the direction of the Hunger Task Force.  Every month we collect foods, designated by the food pantry as the item of the month.  Volunteers also help sort and pack food, and help deliver it to local families.
Email Bruce Meighan
Community Action Program (CAP Center)
This ministry collects and distributes gifts and supplies to the children attending the Head Start program at the CAP Center in Mamaroneck.
 – Bag of craft and school supplies 
 – Christmas Angels providing families with gifts they otherwise would not be able to provide for the children.  This is a great way to share the holiday spirit 
This is a new ministry that collects pet food during our annual "Blessing of the Animals" worship service and delivers to pet shelters in the surrounding area.
Bags for Burke Rehabilitation Center
The Sew n Sews make bags and other items for distribution to the patients at Burke Rehabilitation Center
Our annual tag sales are organized and priced specifically to benefit members of the local community, particularly new immigrants.
Service Within the USA
Midnight Run is a consortium of more than 150 churches, synagogues, and schools in New York area distributing clothing, blankets, toiletries and food to the homeless in New York City. 
There are various ways to help:
 – Contribute clean and gently, used men's clothing, or blankets (these may be placed in collection bins in the Lower Church Parlor)
– Help sort clothing
– Help prepare food (brown-bag lunches)
 – Participate on the run to distribute the items and meet the men and women we serve
Email Bruce Meighan
Kairos Outside Prison Ministry
Kairos Outside NYC is a

prison ministry

that offers a free Weekend Retreat designed to bring Christ's love and grace to the women in New York City and surrounding areas who are supporting their loved ones who are incarcerated.   Our church has been supporting this very vital ministry since its inception in New York City.