Worship Services | Schedule
A dynamic schedule of worship services have been planned including special performances by our adult and junior choirs.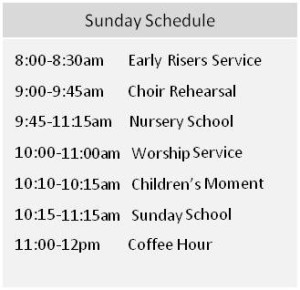 Sunday's at MUMC
8:00am – 8:30am (Brief Communion Service)
The 8:00 a.m. service is a quiet, meditative service of prayer with a sermon and the celebration of the Eucharist (Holy Communion). There is no music at this service, thus silence and the words of prayers and scripture guide our meditation.  Appropriate for early-risers.
9:45am – 11:15am (Childcare & Sunday School)
 Childcare is available from 9:45am – 11:15am for infants and toddlers. While Sunday School begins immediately after the children's moment in the 10am worship service.
10:00am – 11:00am (Contemporary/Traditional Worship Service)
The 10 a.m. service includes music, a children's moment, sermon, prayers & praise, and opportunities for stewardship. Communion is celebrated the first Sunday of each month.
11:00am – 12:00pm (Coffee Hour)
Join us after worship service in the Lower Church Parlor (LCP) to meet and greet for fellowship, food and fun.