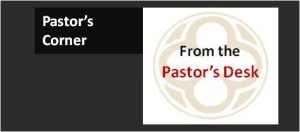 Welcome to Pastor Karen's Blog
From time to time, Pastor Karen shares her thoughts with us via blogs on this website.  You can read her blogs and, if you are a
member, submit your own comments if you so desire.
How to access her blogs?
There are two ways to go to her blogs:
From this page – Click on the Pastor's Corner image on this page, or
From the Homepage – Scroll to the bottom and click on Pastor's Corner to the leftside of the screen.
Happy blogging!